When one thinks of slavery in the antebellum South, most people put slaves in two categories: domestic servants and field hands. But a third category also dominated the antebellum social landscape: horsemen. Most of the South's horsemen who participated in Thoroughbred racing were slaves.
Thoroughbred racing was the sport in the Old South. Men and women from practically every economic strata attended the contests. And one horseman stood head and shoulders above all others in his generation. His name? Abe Hawkins. Head and shoulders metaphorically, because in reality Abe, like most jockeys, was a small man. It was reported that he could fit into a boy-size coat.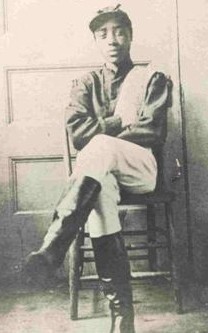 Not much is known about his boyhood, nor do we know his exact day of birth. We do know he once belonged to Adam Bingaman, a Louisiana planter. His reputation as a fierce competitor on the track won the respect of racing enthusiasts, white and black.
In 1853, Duncan F. Kenner purchased him from Bingaman for over $2,000 and brought him to his Louisiana plantation, Ashland.
In 1854, Abe raced to fame during the Lecomte-Lexington contest held at the Metairie Race Track in New Orleans, an event I'll discuss in a later post.
During the Civil War, as the Union army bore down on Ashland in 1862, Duncan Kenner escaped capture and Abe fled North. Here he continued racing, winning fame and fortune.
Finally, afflicted by tuberculosis, he returned to Ashland and Kenner's nursing and care. He died in 1867, but his name and reputation on the turf lived on.
Sources:
Katherine C. Mooney, Race Horse Men: How Slavery and Freedom Were Made at the Racetrack (Cambridge, MA and London, England: Harvard University Press, 2014).
Nick Weldon, "From slavery to sports stardom: Abe Hawkins' rise from a Louisiana plantation to horse-racing fame," The Historic New Orleans Collection, January 11, 2019, https://www.hnoc.org/publications/first-draft/slavery-sports-stardom-abe-hawkins%E2%80%99s-rise-louisiana-plantation-horse-racing.